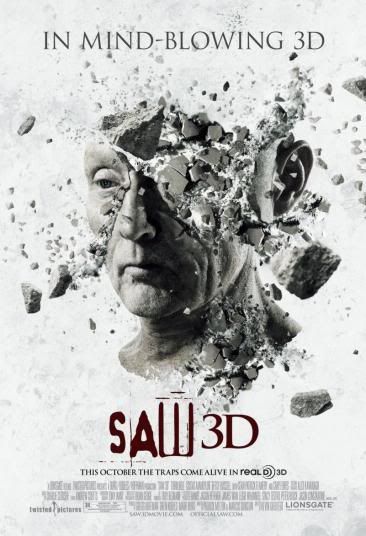 We've been down this road before. I said I was done. But you know me, I am a glutton for punishment. I had to see this one. I had to. I know I have said a couple of a times that I can't stand how everything that is released now comes in 3D as well as 2D. But I wanted, needed, to see how they worked the traps into the world of 3D.
I just had to see.
Jodie, Des, and I loaded up and took off to the Mall of Georgia to see some gore in 3D. When we arrived we got our tickets from the magic Fandango machine, picked up our 3D glasses and found a good spot.
We were ready.
Let me start off by saying this was a good movie.
Kevin Greuter
, who directed Saw VI and pretty much edited every Saw movie previously did a great job. I was pleasantly surprised.
As an audience, we have been promised answer to questions from this franchise. Ever since V They have been touting that it was the end. Well, this one is the end. Questions answered, surprises had, and one last game played.
All the past pawns were there sans Amanda. John/Jigsaw (
Tobin Bell
), Hoffman (
Costas Mandylor
), and Jill (
Betsy Russell
) are all there to finish the power struggle over John's legacy. Meanwhile, Bobby (
Sean Patrick Flanery
), a supposed "Jigsaw Survivor" has decided to cash in on his struggles. He wrote a book, does TV appearances, and goes to meetings with the other survivors. Too bad he's a liar and must now be put through his own game.
In the end... well, you really should just see it for your self.
The 3D effects were pretty cool. They didn't detract from the story. The film makers managed to use them where they would be most effective. Mainly in the traps and with the gore. I was ducking guts. I really was.
Speaking of the traps...
The traps blew me away. It was quite the sadistic little toy chest this time. I think the one based on sound was my favorite. Oh and remember Amanda's reverse flytrap mask? The one she managed to escape from? The ONE trap fans have been wanting to see in action? Your wish is granted, long live Jambi.
RATINGS:
ACTING:



GORE:





HUMOR:

OVERALL:



1/2